Chaos In Normalcy
SHS Drama Finally Returns to the Stage!
Throughout this past school year, South High drama has been eagerly waiting to get back on stage to perform.
They finally got the opportunity to get back on stage, socially distanced and masked, in front of a (small) audience with the production,Mutually Assured Destruction (MAD), which ran from April 19th-23rd at the South High Auditorium. This show served as a very memorable final show for seniors, and was a great introduction to new cast members who look forward to performing in future South High productions.
Mutually Assured Destruction features ten vignettes, or small shows  with only two actors, depicting siblings arguing with each other. Each vignette takes place in a different decade, ranging from 1922 to 2015, and includes a variety of different wacky scenarios that reflect the time period. For Ms. Mariya Grabow, Library Lady and the drama director at South, this vignette style play was perfect for Covid-19 restrictions.
 "We decided to do this show because it allowed us to keep the casts small (2 people per show) to keep people safe. We had no Corona 'scares' and will still be able to get together to watch the shows once more people are vaccinated!" Grabow said.
Mutually Assured Destruction, written by comedic writer Don Z
olidis, includes several goofy moments that the actors worked especially hard on to get a laugh from the small audience.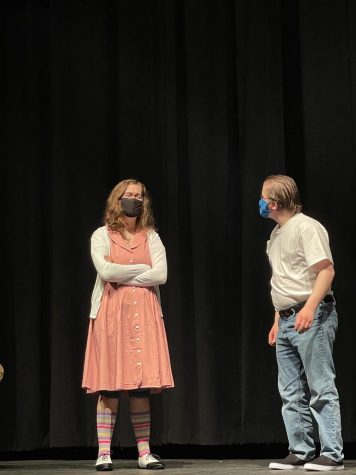 "This show, however, was not particularly "deep" so really our work together was more about making the funny moments funnier!" Grabow said. 
 Senior and member of stage crew Collin Reinemann agrees, and says that some of his favorite moments in the show include "the one with Dan [Daniel Ellair, '21] and Liz [Elizabeth Murphy, '22], watching Liz smack Dan. Otherwise if I had to go for my second favorite, it's definitely Mason [Mason McWherter, '22]  as the clown."
Although the actors were super excited to have the opportunity to be back on stage, stage crew was even more excited. 
"It's better than recording everything online because crew really doesn't have a role there, and being able to do at least something on the stage, we had something to do with crew" Reinemann, who has been a part of stage crew for the past three years, said. This year, stage crew has been focusing on cleaning up everything that was still left from last year's play, Puffs, and installing the new LED lights for the stage.
This year, South's drama program will be losing two graduating seniors, Daniel Ellair and Collin Reinemann. After the musical had been cancelled in fall, the seniors agree that this hasn't been a normal drama year, but they're still happy with ending their high school drama careers with MAD. 
"I'm just glad I got a last production this year. It was really fun to do, even though I would have preferred a musical," Ellair said.
However, those not graduating weren't turned away by this weird Covid year, and are eagerly looking forward to future productions. MAD is freshman Carson Keller's first drama experience at South, and he will continue to be involved in the future. 
"Well, Covid did ruin a lot of what I wanted to do this year, but I am glad we were able to do something involved with drama… I will continue to join in drama at the school. I had a weird start, but it was a good one," Keller said. 
 The shows for next year are certainly living up to the expectations.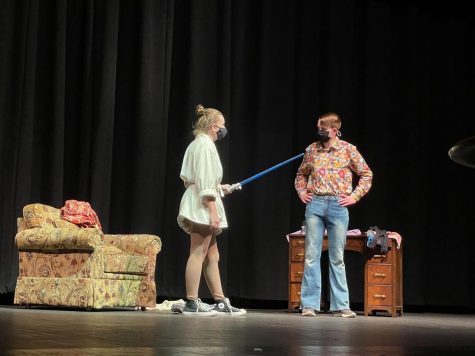 "In the spring, we will finally produce AND THEN THERE WERE NONE based on the Agatha Christie book of the same name.  That will be in February 2022.  We might do another play in the Spring, too, depending on how we all feel! The fall musical will be MAMMA MIA! We WERE going to produce CABARET but decided to move to a joy that is pure joy – we need some joy!" Grabow said.