Retirees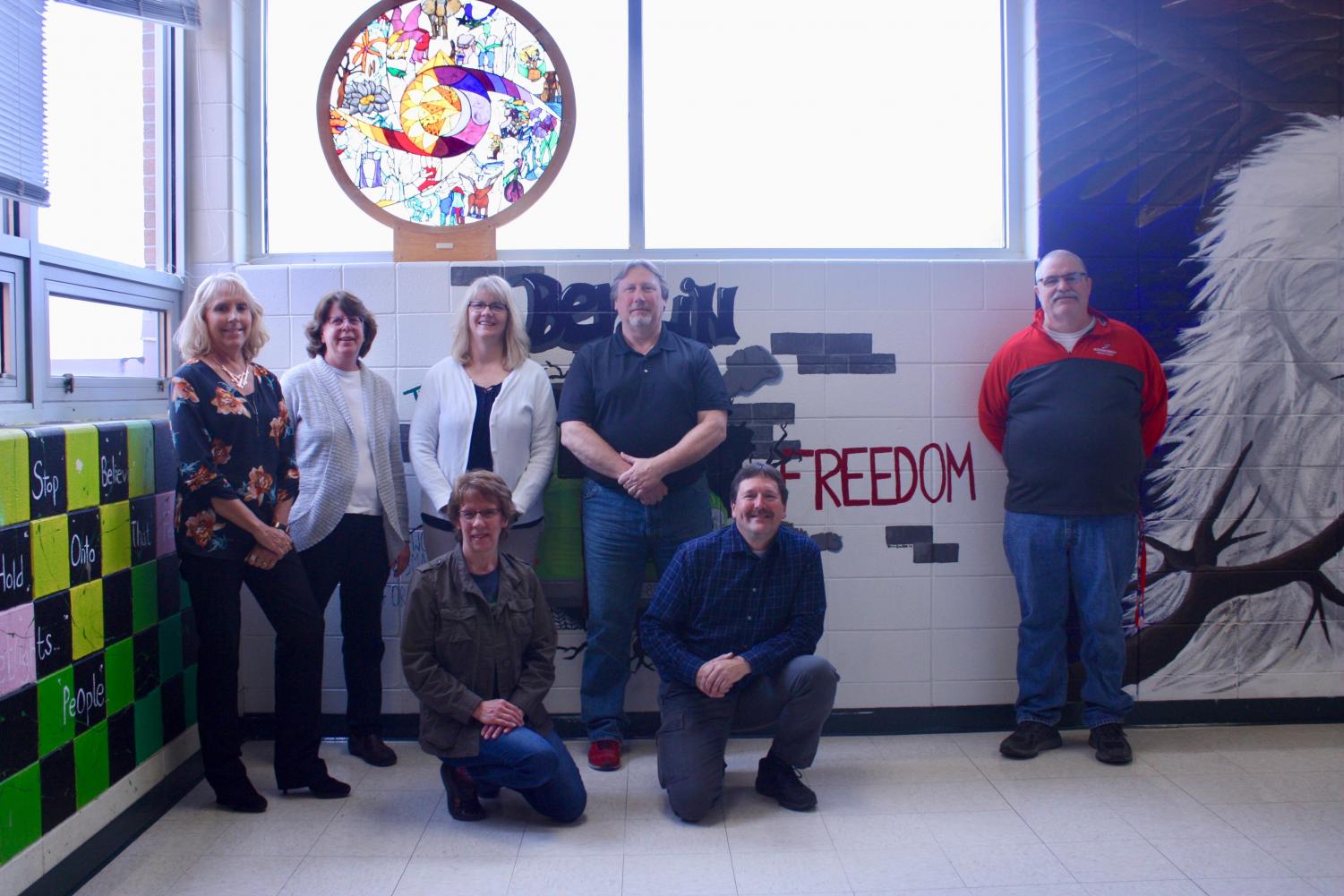 This year, South is saying goodbye to a handful of teachers as their educational journeys come to a close. As they leave the nest, many of their fellow department members still have a few things to say.
BUSCHE
"We all want to wish her the best in retirement. We want to say thank you from the department, and wish all the best." "It's always impressed me how she is interested in so many things, she will watch migrating birds and wildflowers, and everything at the same time." -Ms. Gleue
"I will miss her ability to bring M&Ms and chocolates to teacher meetings. I will miss how she can always joke with people to cheer them up. I am very excited to hear about any of her travels. Like she always says, 'don't let the door hit you on the way out.' I will always remember the senior prank of writing 'the original chemist -Sue Busche'" -Mrs. Klingbile
"I would like to thank her for mentoring me through chemistry and being a very valued colleague for the past 15ish years. She helped me out a lot when I came in and was able to put up with a newbie teacher." -Mr. Westcott

"When I came in as a new teacher she helped me out in the department. Whenever I needed anything from chemistry for biology she always helped. She did a very good job leading the department. I wish her the best in retirement and hope she enjoys it." -Mrs. Schumaker
————————————————————————————————————————–
KLOKOW
"We are jealous of her. We thank her for being a great friend and colleague, and we wish her the best. If we ever need a long term sub in geometry specifically, she will be getting a call." -Mr. Ristow and Mrs. Young.
"I appreciate her laugh. I always enjoyed listening to her stories mixed with her laugh. She always had good stories with her students and kids. She always comes up with good ideas and looks to solve the problem rather than create new ones. I appreciate how she always tries to help the building." -Mr. Tackik.
"My favorite thing about Mrs. Klokow is that when we talk, we talk for a long time. We were lunch buddies and I will miss that. I'm sure she will miss the adolescent behavior in her retirement." -Frau Krause
"I will miss her pretty papers. She has the best set of notes so I admire her super-neat notes." -Mrs. Pribek
————————————————————————————————————————
GOETZ
"I will always remember how we beat him in football. Tell the whole story every year, took him out of the game, scored my only touchdown sacking him in the endzone. I will miss his fishing and hunting stories a lot, they were always some great ones." Mr. Berlin
"I've been team teaching with him for 14 years. I will miss his cheery disposition. I will miss working with him every day. It's always been a blast." Mr. Mcadoo
"I remember how he had that mullet, we both did when we coached wrestling in the 80s. I met him coaching wrestling. He took a team to state baseball in 94'. But he is from North. We shared a room together and it was the smallest room in the department, small and hot room. Mr. Schrank
"The kindness and warmth he showed to me as a younger teacher, and how he always showed respect towards students." -Mr. Peterson
———————————————————————————————————–
BERLIN
"Hooolly Buckets, Ooooiiiiieee! Who is not going to miss hearing that in the hallway? I won't miss his Cubs shirt though. Jamie grew up here and embodies South. His service to this school is invaluable. He coached, taught, was always involved."      Mr. Schrank.
"I got two. When we were coaching football together, he always had his sons out there. One time his son was following me calling me dad, and he got yelled at by Jamie." and "Somewhere Mr. Berlin got the nickname BABS, I don't know how. After a football game, we were outside the commons and an adult lady squeezed my buttocks and called me BABS and thought I was Mr. Berlin and was quite embarrassed. We get confused for each other quite a lot."  Mr. Safford
"He always calls me wookie, because for fantasy football I put wookie of the year as my name. I will always do my best to keep the oooiieee in this school and social studies department." Mr. Wagner
"Anytime we would have a class that needed to be taught, no matter the class, he always 'I'll do it.' no questions asked, always smiling." -Mr. Peterson
"I've known Mr. Berlin since we were in 7th grade. We were in parochial schools. I played against him in football. When we went to state he was the athletic director, and it was the most fun together as a team. He was the one that started getting pictures and plaques for conference champs and I thought that was really awesome. He always calls me a darksider." – Mr. Goetz
—————————————————————————————————————————
HIEBING
"On a personal level, she is a very positive person to have around. She has a great cackle for a laugh, one of the more memorable things. Once she starts she just can't stop. She gets how to do her job and knows how to make great connections for her students. She never complains and does everything that is asked." -Mr. Schnieder
"I'll her as being my twin. I came here 5 years ago and everyone always gets us mixed up. I will miss her laugh a lot. We're going to miss looking at her stilettos. She truly had compassion and care for kids. I am proud to be a member of our MC club. We heard she toilet papered a students house, and it may or may not be true." -Mrs. Ison.
"She's my workout buddy. She sings when she workouts and loves 80s music. She doesn't even know when she starts to sing. If she's working out with an 80s tune, it's a guarantee she will start to sing. That's what I will miss about her." -Mrs. Willadsen
"We always joke about knowing when she is coming, because of her high heels and dressed up. We always hear her laugh down the hallway. She always changes her phone case when she gets a new grand-baby." Mrs. Kidd
—————————————————————————————————————————-
ADMINISTRATION (to all retirees in general)
"Each one of our retirees has left a lasting impression on south high. Whether its phrases they say, (Berlin), the status of how to run AP classes (Busche), or how they all had a part to make this school great. The biggest thing to take away is how they all were able to set a great example to future staff and students. It was great to able to recognize all the teachers in front of the students" -Mr. Kestell
"Our retirement class of 2019 is one with decades of experience. They have all in their own ways been anchors to each department with all the transitions south has been going through. Having a positive attitude through it all has been really appreciated. " Mr. Formolo