9PM-5AM in the Halls of South High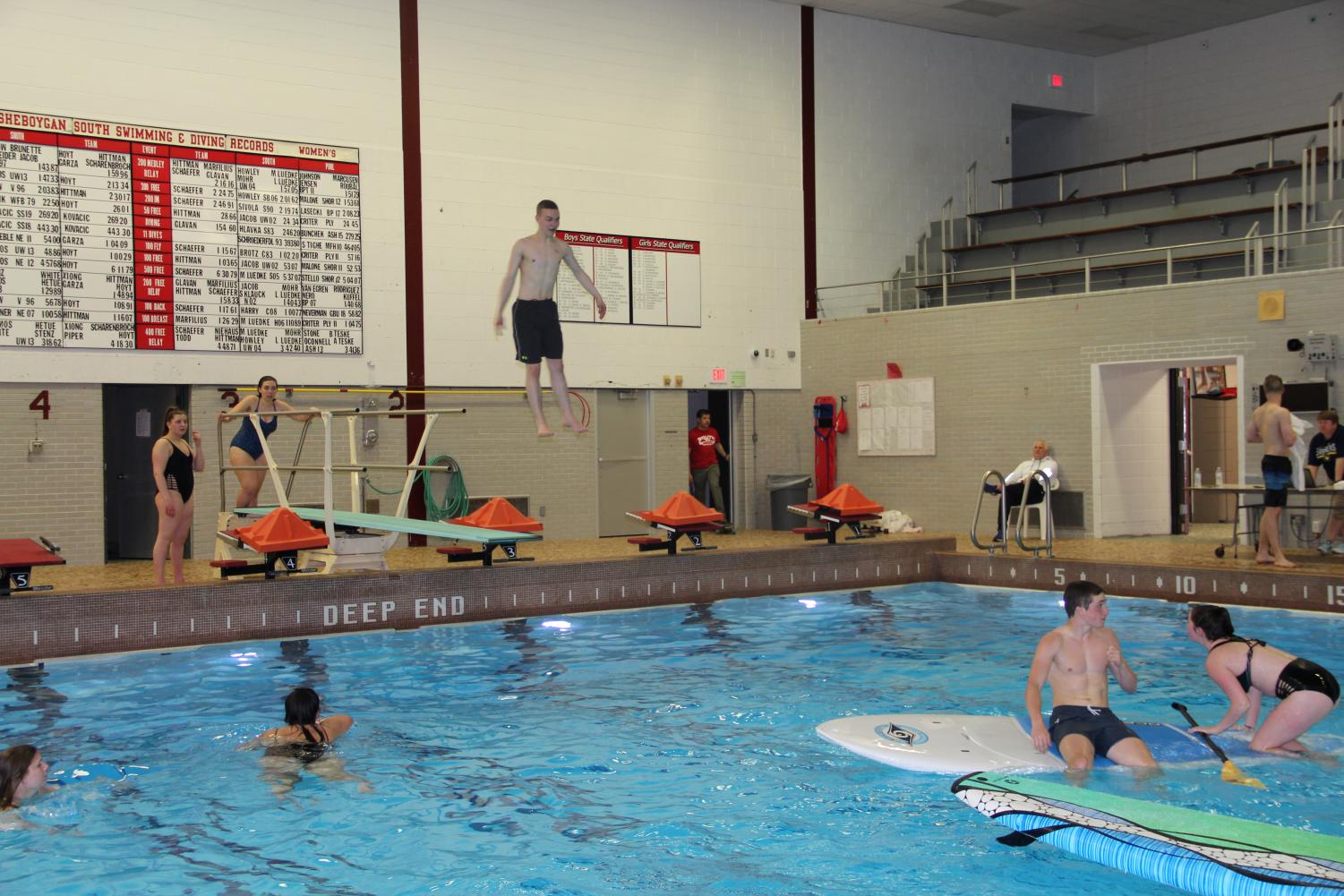 As the end of the school year quickly approaches, there is always a bittersweet feeling surrounding the halls of South. Freshmen are excited for summer, ready to no longer hold the title of the youngest in the school. Sophomores also excited for summer, look forward to the pride that comes with being an upperclassman. Juniors, having survived the so-called hardest year of high school, not only look forward to summer but begin to look towards what the future holds. For seniors, the excitement of summer is intertwined with feelings of sadness as they realize their high school careers are coming to a close. This past weekend these feelings were celebrated at the senior lock-in.
For many of the seniors, this lock-in was a final time to be united as a class and really feel a connection with their peers. Signs posted around the school during the weeks prior to the lock-in promoted the activities that would take place. Activities included dodgeball, swimming, basketball, pancake making, movies, karaoke, and many others. Some thoughts going into the lock – in alluded to worry. Senior Aricel Mendoza was concerned about her classmates being able to have fun throughout the whole night. "Going into the lock-in I thought it was going to be very boring with not much to do, and I thought that people were going to just end up falling asleep" remarked Mendoza. Others were just a little uneasy about the concept of the lock-in in general. Senior Jaidan Glavan said that she "Thought it was going to be a little weird to be locked in the school all night" and many of her classmates shared this concern with her. Worries aside, almost everyone who attended the lock-in had a positive experience and all were very glad they went.
While the majority of students stayed through the night at the lock-in, some had commitments the next day that resulted in them having to leave early. For many, this commitment was placement testing at their college. Senior Savannah Brusse, who had placement testing, said that "Although I had testing the next day, I didn't want to miss out on an opportunity to have one last fun time with my class." Like Brusse, many didn't want to miss out on the fun, but had either work, sports, or testing the next day, and so many decided to compromise by leaving early. Students weren't the only ones who left early though as many chaperones were sent home as the night went on. The seniors weren't causing any trouble at all, and Principal Mr. Formolo was very proud of the kid's behavior and could be seen participating in many activities along with the students. Senior Lejla Ganja recalled Mr.Formolo in her favorite memory of the night saying that "Longboarding down the hall and seeing all my friends enjoy themselves was very fun. Even seeing Mr. Formolo having fun with us was great but also sad because that made me realize how little time we have left here." These bittersweet feelings were touched upon by many other seniors as they reflected on their nights as well.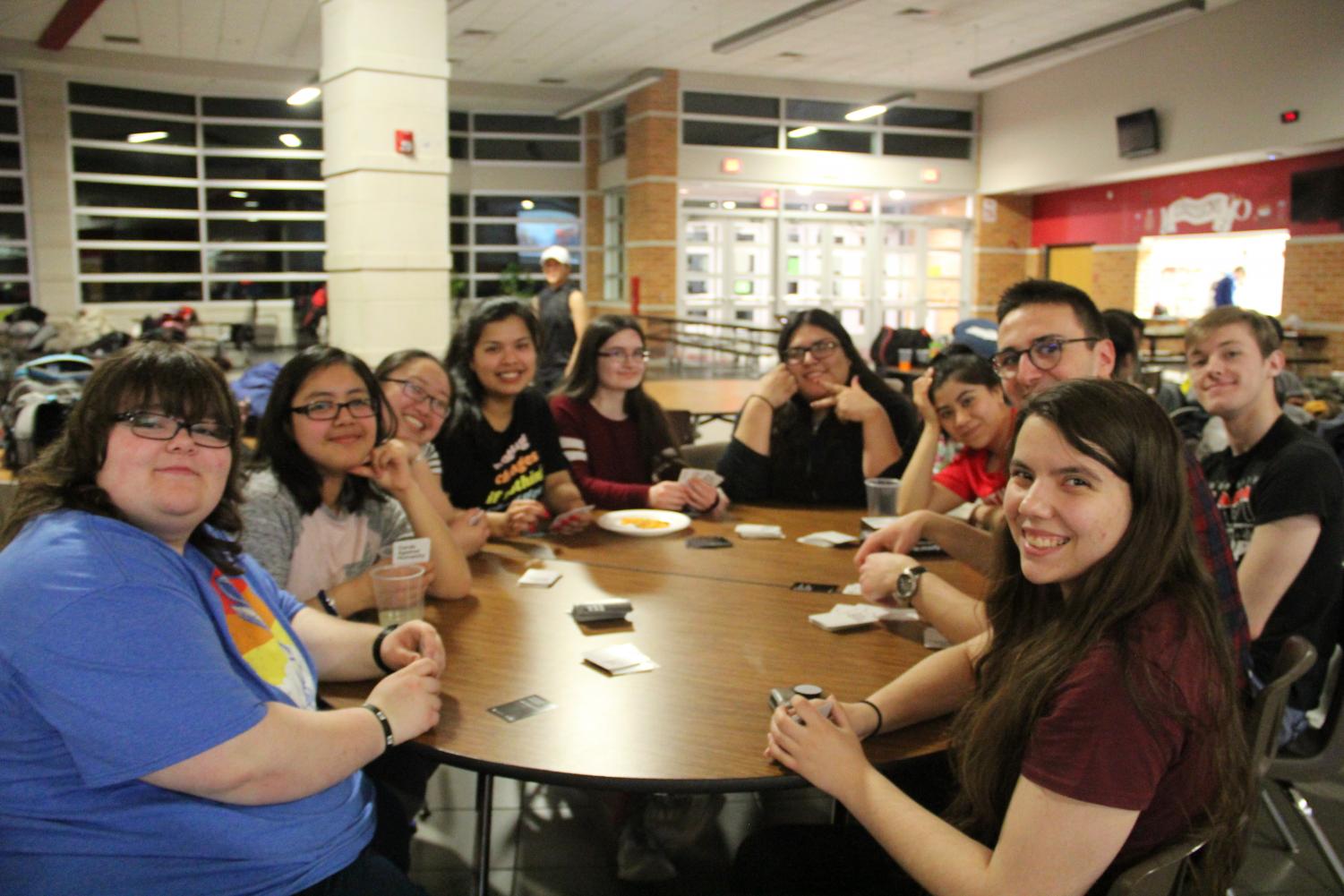 Senior Alonzo Backhaus was grateful for the lock-in stating that "This is a time that was given to us to spend a few hours with the people that we have basically grown up with, and will be leaving soon." Others viewed the night as an opportunity to make new memories, and some even felt that it bonded them closer with friends and classmates that they didn't interact with much during their high school careers. Some students, such as Senior Dominick Yang, couldn't pick out a specific moment that stood out to them, as they thought the whole night was a great experience. "It was a long night and although I couldn't pick out the best part, I think that it was a great idea to get all of us, seniors, together and be able to have some fun together before our year is over."
Although the year isn't quite yet over for these seniors, the lock-in helped reality to set in that their time at South is soon coming to an end and they will be passing on the title of leaders of the school to the junior class. With this, Senior Kayleigh Entringer wants the juniors to consider recreating this lock-in next year. "Juniors, think about doing this!", said Entringer. "The lock-in definitely brought the senior class closer together and I'm so glad we decided to do this."