WORLD CHAMPIONS
Recently, our very own Dollhouse Dance Factory of Sheboygan took the Worlds stage in Orlando, Florida. Dollhouse is known for being an award-winning and competitive program consisting of some of the most elite and utmost talented dancers. Their program competes from January until May, competing anywhere from Wisconsin to Illinois, to all over the country. In the past, Dollhouse was given the opportunity to compete on the World of Dance stage in front of celebrities, Jennifer Lopez, Derek Hough, and Ne-Yo with some of their most talented dancers. Dollhouse first opened their doors in 2013, and since then the program has grown immensely.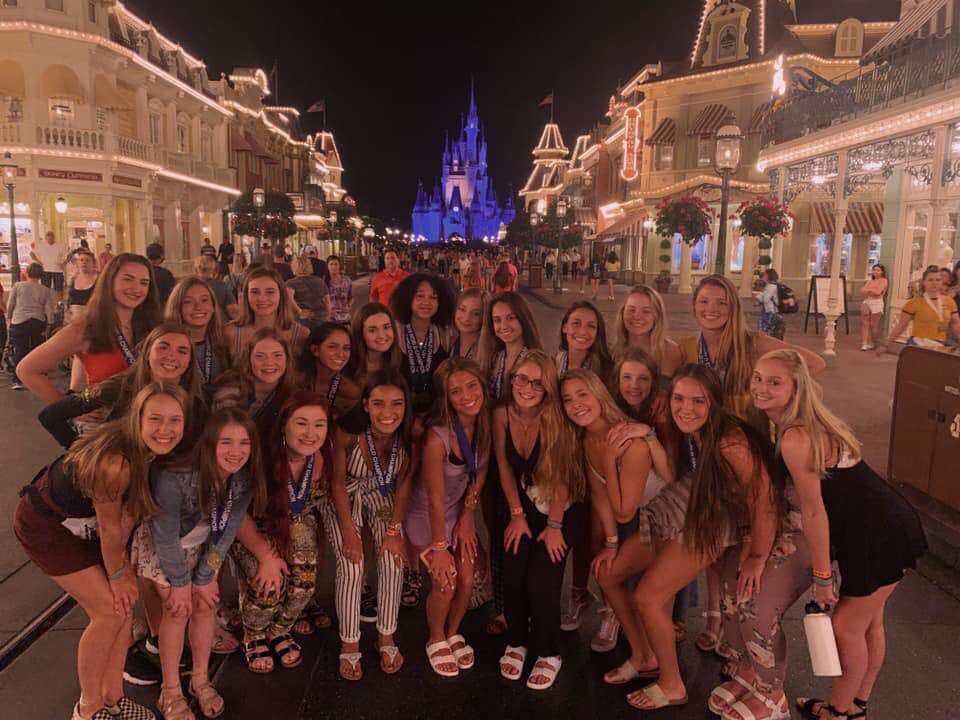 Here at South, we have three dancers that competed on the Worlds stage. Seniors Kennedy Matuschka and Claire Michener and Junior Nicole Fritsch. When Senior Matuschka looks back on her experience she explains,
"I have been dancing for 15 years now (the past 6 with Dollhouse) and Worlds by far is the best dance experience I have been a part of in all of those years. Leading up to Worlds, we put in countless hours of practice from July to April to make sure our dance routines are perfected for when we take the Worlds stage. Getting to show what we practice all year round at a competition that hosts 30+ countries is truly unforgettable. This was my fourth year competing at The Dance Worlds and I still felt the exhilarating feeling I got my very first year walking onto the huge stage. I am so proud of my Open and Senior Large Hip Hop teams for becoming World Champions this year and I cannot wait to see how Dollhouse Dance Factory grows in the years to come! "
Senior Michener said about her experiences,
"I´ve been dancing since I was 3. I started off at small studios within Sheboygan being a typical student whose mom signed them up so they could be involved in something. As I progressed, I learned to love it more and more. At that point, I moved on to doing competitive dance. When I first started, my team would get last at every competition and my technique wasn't really improving. After a year or so, Dollhouse Dance Factory opened and it all went up from there. I became a much better dancer and I was given many extremely amazing opportunities. One of those opportunities was having the chance to compete to go to Worlds which is an international competition for the best dancers and cheerleaders around the world. Worlds is unlike any other dance competition. The big reason is that there are teams from other countries some of which don't even speak English. All of the teams competing are also extremely talented and there is no ¨bad¨ team. Another thing that I like about competing up until worlds is the friends you make. To go to Worlds you need to go to a bid competition where you compete to go to worlds leaving with a bid that is partially paid or not. At these competitions, I´ve made a lot of very close friends from other programs. But this year, Worlds was extremely special. This year we won two World Championships. One in each of our categories. Winning two divisions is almost unheard of at Worlds so you can just imagine our excitement. Winning at Worlds is a surreal experience and there are no words that can explain how emotional and exciting this achievement is. The entire weekend is super emotional really because at this time seniors are almost done with the season, it's the last time you perform this routine, and this is the moment you´ve been working for all year. I´m so proud of my teams this year in making it as far as we did and I see great things for us in future years.
 Lastly, Junior Nicole Fritsch explains the experience as,
"The Dance Worlds is such an amazing experience. All of the countries there are so kind and are always rooting for you to do your best. This year was extra special for Dollhouse. Winning a World title is not an everyday thing. We had to put in tons of hard work and time to get that as a result. Competing is such an adrenaline rush and I am addicted to the feeling. I have been dancing for about 10+ years, but I have been dancing for about 6 years at Dollhouse. We have accomplished a lot of amazing things as a team. We have won many national championships, competed on World of Dance Season 2 and some of the girls on my team even dance with Justin Bieber on his world tour. We have definitely all grown as dancers and people these past couple years and I am very grateful for all of the experiences I have had with my team and my coaches.
Congratulations to all three girls and Dollhouse Dance Factory!!!