March is for …
March 1st to March 31st celebrates Women's History Month. March is a critical moment where we, as a country, recognize how women have unmistakably contributed to our history. In honor of this month, we wanted to appreciate some outstanding women at South High School who have positively contributed to South's history. From sports to clubs to school and community work, these powerful ladies have done a lot.
SENIOR – KAYLIE CHANG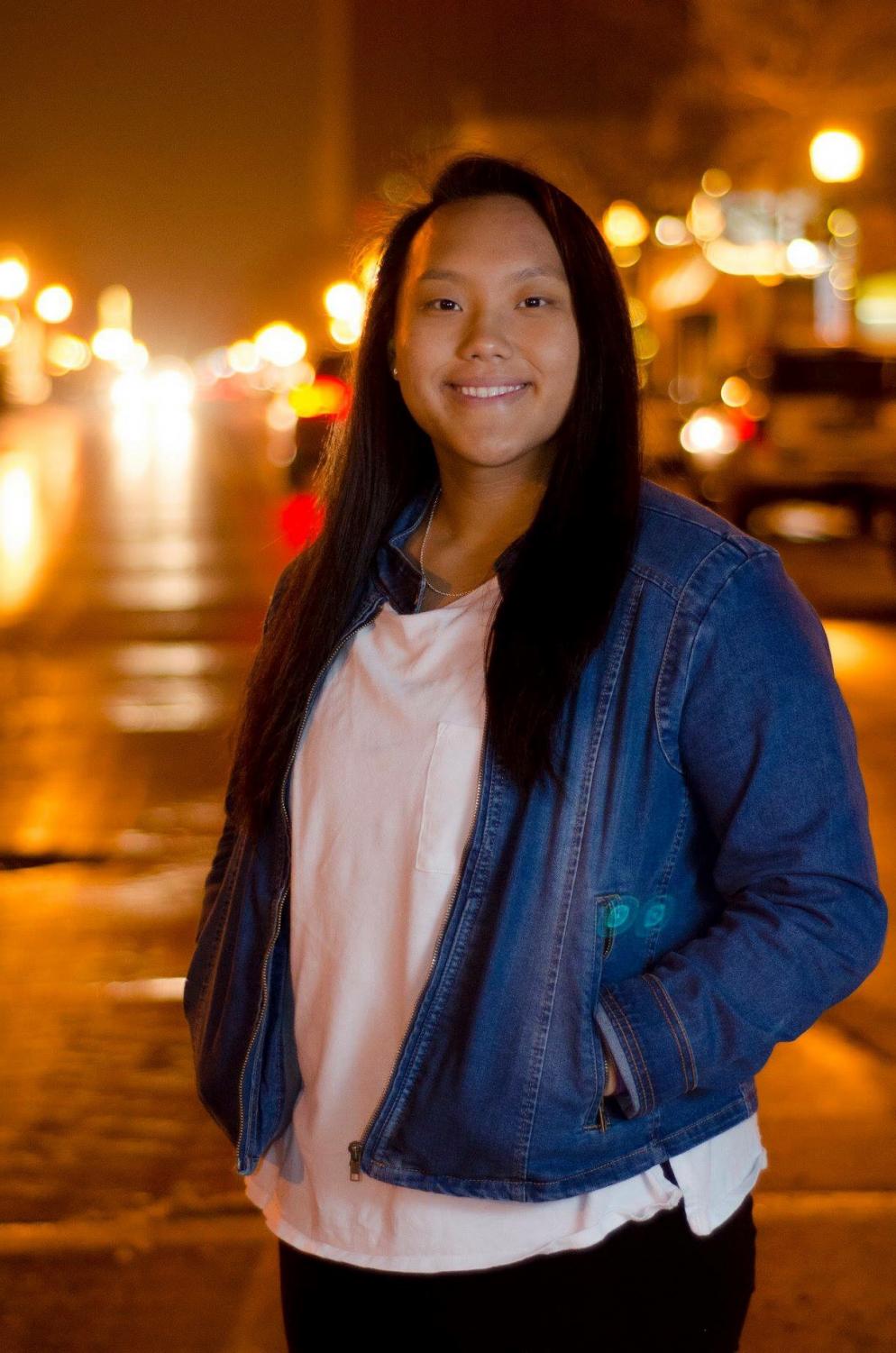 Player Profile:
Skill- Wrestling
Rank- 5th in All-State Conference, 2nd in State
You may not have heard her name before this year, but after her wrestling season, she's made herself known. This past winter was Chang's first season of wrestling, but as a senior, she made the most of her season. Chang comments that "I had no intention of joining wrestling… I had no background knowledge of what wrestling was and no experience whatsoever… I'm not the greatest but I've learned a lot of new skills." Despite her modesty, she's accomplished a lot this season. Walking in without any skills and walking out a champion is successful.
Although this didn't come without hard work. Chang worked incredibly hard this season, "It took a lot of mental and physical power to accomplish my achievements. you had to put all your hard work into it or else you wouldn't get far." Her word of advice to do well in wrestling or anything you do in life? "Don't ever stop! It doesn't matter how hard it is or what you do. If you put your mind into it, you'll eventually achieve that goal. If all you do is think about negativity then you'll see a negative outcome. So always think positive. I've never thought I would make it to state and look at me now, 2nd in state for all female wrestling conference. Couldn't be more proud of how far I have come. So don't ever stop!"
JUNIOR – RAKSHYA BHATTA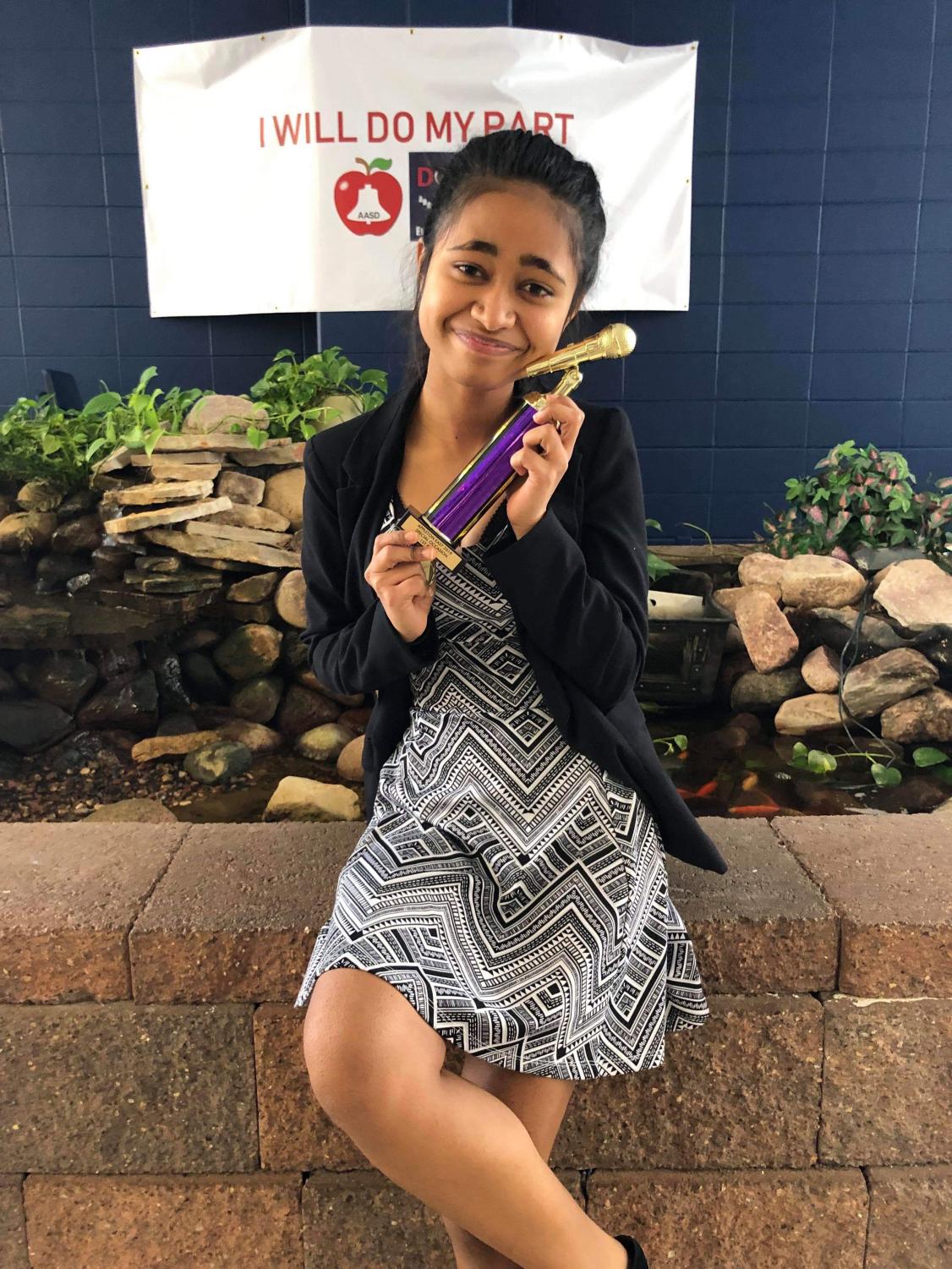 Player Profile:
Skill-  public speaking
Rank- 1st in State for both Impromptu Speaking and Congressional Debate, 9th overall in State for points
While forensics is known for bringing home trophies and champions, you may be wondering, "Why?" Forensics is more than speaking to a wall, this club helps you build important social skills as well as confidence.
To get to where she is now, Bhatta "came into practice a lot and took a lot of time in front of a mirror trying to memorize my speeches and involve gestures to add to the overall presentation of the piece." This has paid off as she celebrates the title of most points in not one but two different categories. Bhatta adds, "I feel really proud of my accomplishments and how far I've come in my respective categories. I am also very grateful for all the friends and coaches that helped me along the way." Her humble attitude reflects how the team has created a safe space for her. Along with hard work and dedication, she has the luxury of a close team to help her through it all.
For those of you contemplating joining forensics, "Forensics can give you a place where you belong and inspire you to do better, and even build your confidence. There is nothing stopping you from joining this amazing club."
SOPHOMORE – HALLE BOLDT
Player Profile: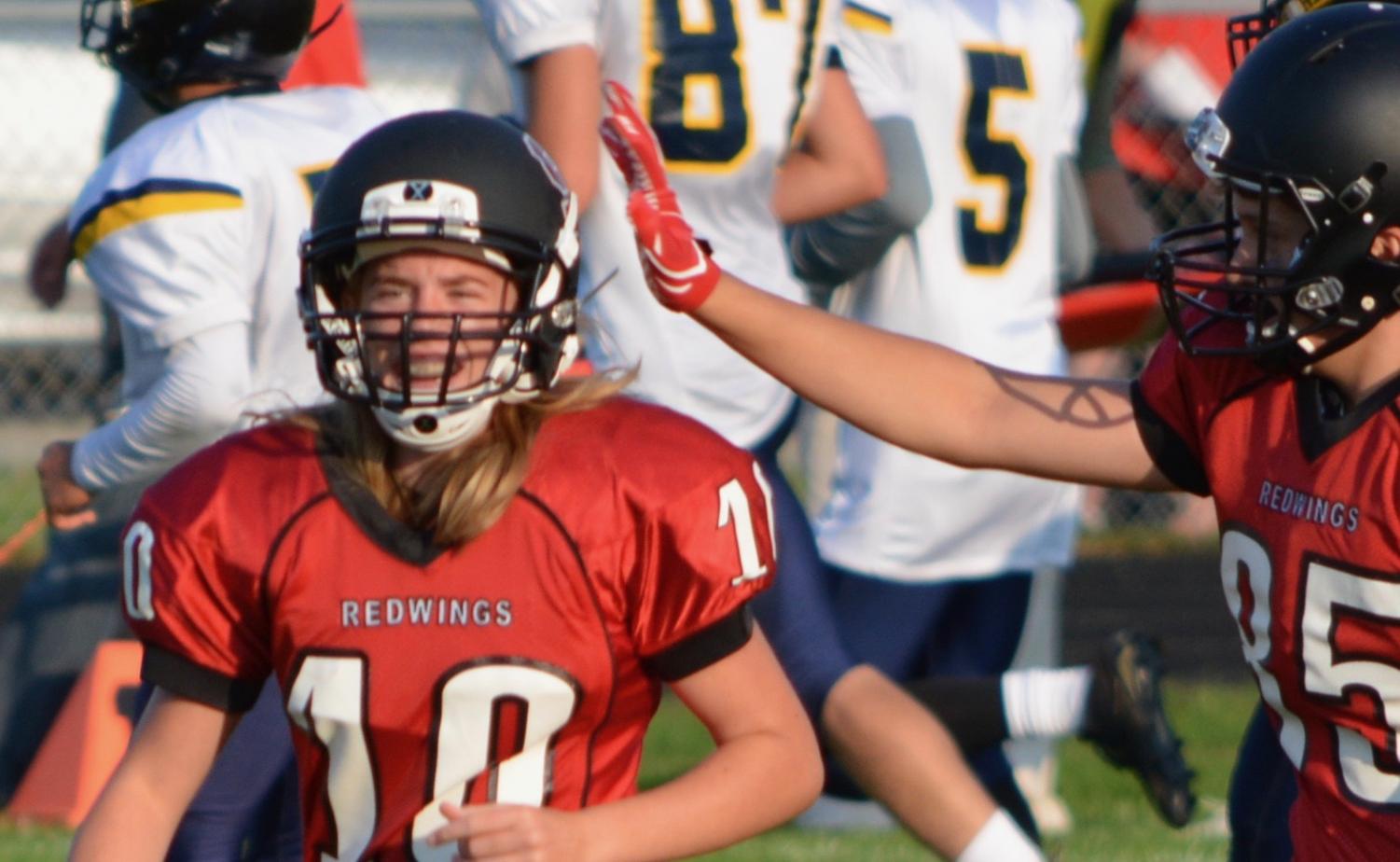 Skill- strong athleticism
Sports- Cross Country, Football, Basketball, Soccer
Another athletic student, as a sophomore, Halle Boldt has been involved in four sports -and mostly at the varsity level. You've probably heard her name before in fall as the only girl on the football team, or in the winter as girls' basketball fought all season.
What inspired her to join these sports were, "My family and friends were the biggest support. I met some boys in the Redwing Way Program that pushed me to be able to have the confidence on the first day of football to go out there with my cleats and give it a try. My family wasn't in favor of allowing me to go on a football field with a bunch of boys. But when I came home that first day with a big smile on my face they knew it would be a great season. I couldn't imagine what I would have done without this big choice."
You'll continue to hear her name throughout the school as she continues dominating sports. Boldt's hopeful words for her future in athletics are, "Going into football my freshman year, I knew little to nothing about football. Now I think I could say I know about every position on the field and if I should ever play one!"
FRESHMAN – AINSLEY SCHWALBE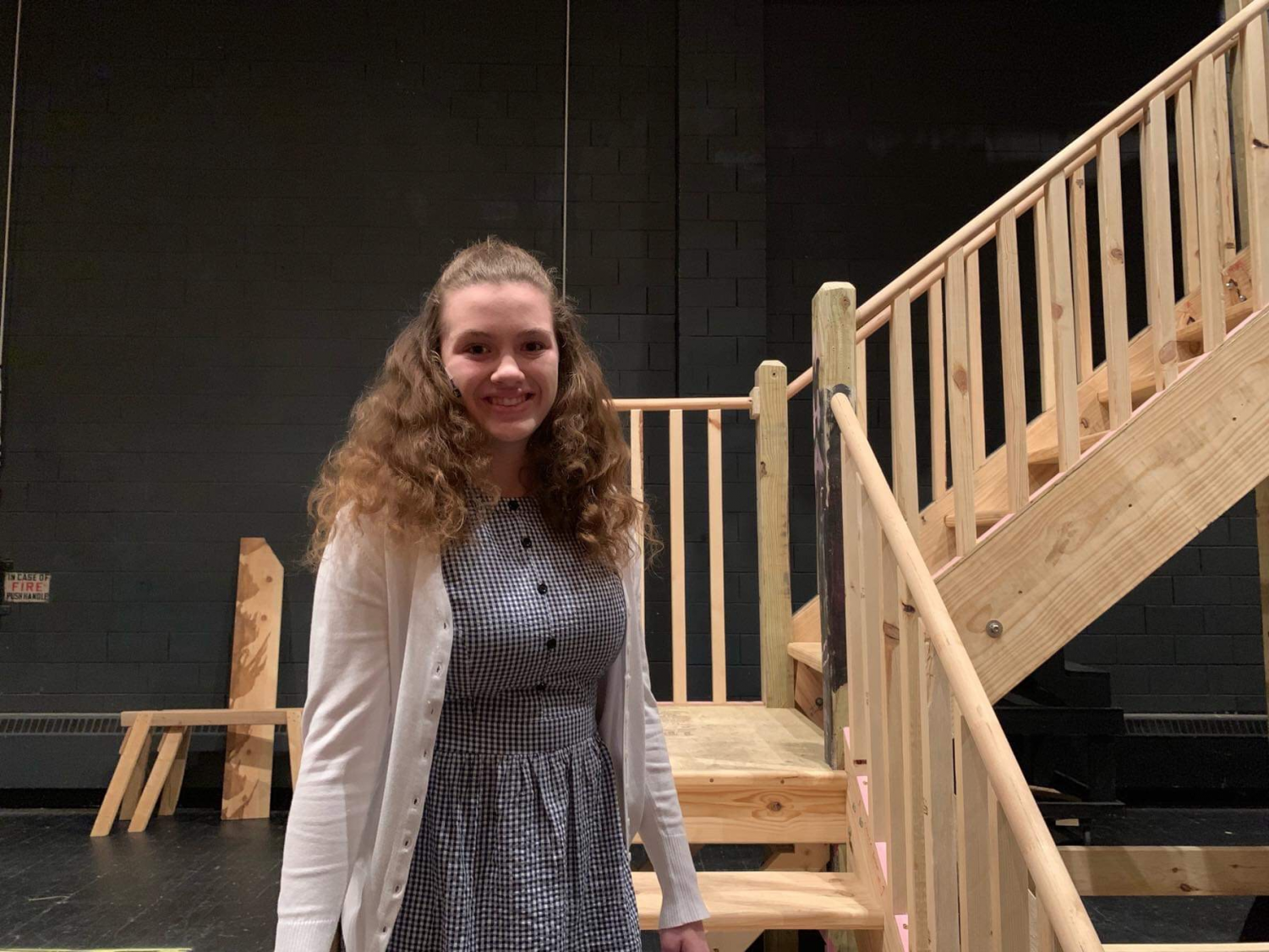 Player Profile:
Skill- theatre
Summary- successfully done many shows, ranging from "Beauty and the Beast" to "Annie" to "Our Town"
As a freshman, Ainsley Schwalbe has already begun collecting an impressive amount of shows under her belt. Just finishing with this year's spring play, she's going to be a face you continue seeing on the stage. Schwalbe says, "I have always enjoyed doing theater and becoming a different person when I'm acting. I like talking in front of people and being able to convey a story, that's just a really cool experience. It's also cool because I'm usually pretty introverted in school, and when I'm on stage, I can become a completely different (and loud) person." Being able to break out of the norm has been powerful, enabling her to pursue an interest that not everyone has the opportunity to be a part of. It has also built her character and confidence.
Though she is young, she recognizes we have subtly conformed into similar versions of each other. "Just be yourself. It's easy to forget your weird side in today's society, but just make sure you don't forget that."
Before March ends, take time to recognize and thank the amazing women in your life. As Junior Maya Walther says, "I think Women's History Month is a wonderful time to celebrate the many accomplishments of women, especially those who have been overlooked in the past due to their sex. It's empowering to hear about the successes of strong, capable women."
If anyone is bothered by how "sexist" it is to have an International Women's Day or Women's Month, here's why it isn't sexist when women choose to celebrate themselves. A majority of school curriculum emphasizes the contributions and stories of men, this is a month to go against the norm. For those actually interested, International Men's Day is on November 19, 2019, and is celebrated to call attention to positive male role models and the issues men struggle with (toxic masculinity, mental health, etc.).