Painting a Legacy
     When you walk the halls of South High School, your eyes are greeted with bright colors and swirling shapes. Murals cover the walls and show the history of the artistic ability held within the building. Student murals are just one of the many ways that students can leave their mark on the school. This school year Seniors Helen Flynn and Antonio Gambera, and Juniors Justine Soliz, Theodora Yang, and Kaley Burrows decided to pick up brushes and paint and add life to the walls in school. For the seniors, these murals have an extra special sentiment, as they are the final way the seniors can leave a stamp of their artistic talent on the walls of South,  
     The mural being created by Helen Flynn is the Lake Breeze mural. This mural can be found outside of Yearbook staff advisor Mrs. Larson's room. Helen says that the reason she chose to paint this mural is because her art teacher Mr. Sommersberger suggested that she do a mural representing Lake Breeze. " I created a sketch that includes aspects from many previous South yearbooks. I included all of the yearbooks that I own on the mural and several others that I thought had interesting graphics", said Flynn.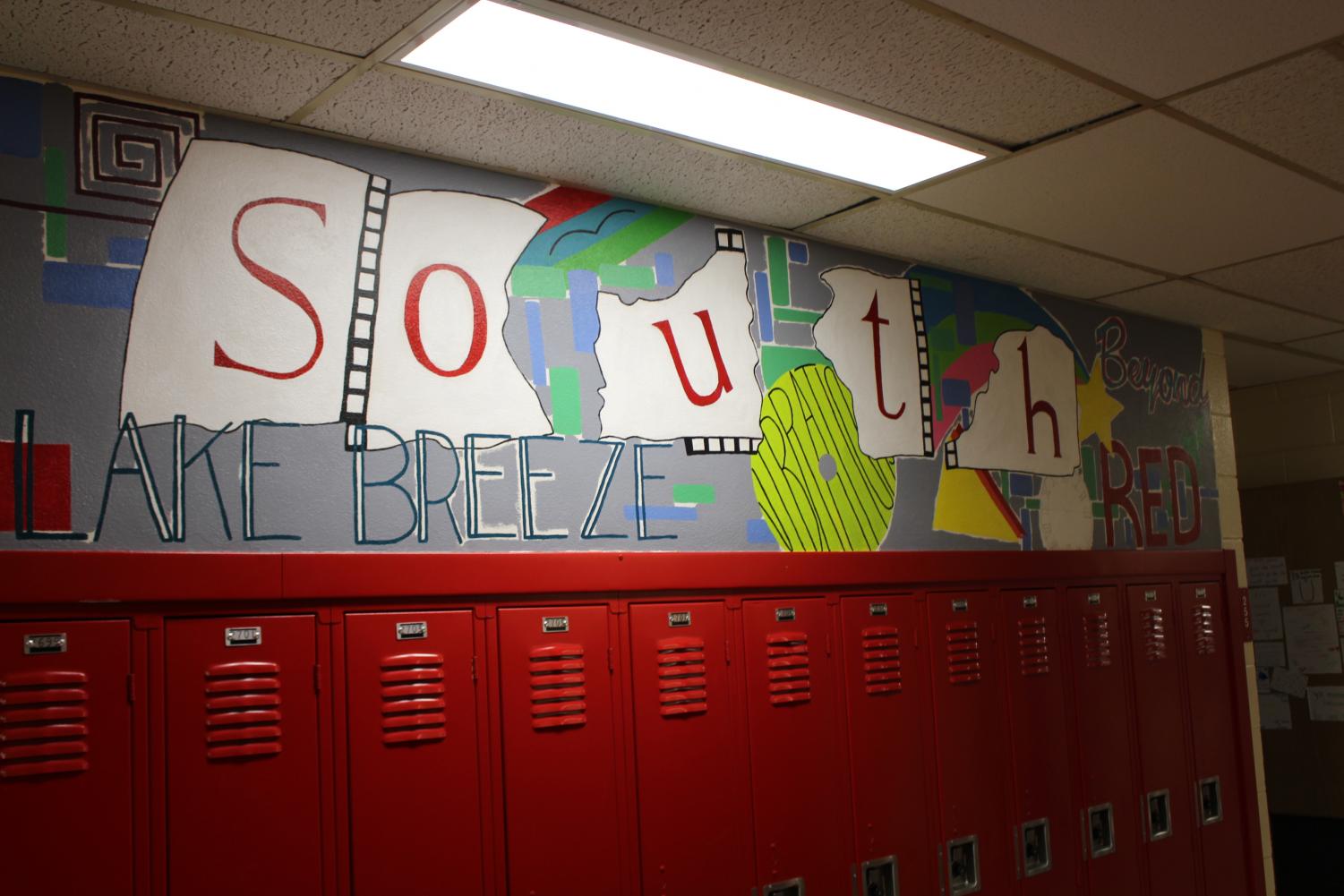 Flynn has been in art class since freshman year and finds it to be very relaxing. "It is a good mental break in my day, and I like how painting gives me something to focus on other than thinking," Flynn claimed. For anyone who is considering taking an art class Flynn would suggest taking it to add a creative break into the day. Going off to college and into the real world, Flynn predicts that art will still be a part of her life. "Art keeps your brain active and creative. I think there are legit benefits to having art in your life whether it be fashion, interior design, or music. There are so many ways to keep art in your life without painting all day (unless you like that sort of thing, which I do)."
     Another mural being painted by a South High student is a mural at Bo Mallies restaurant, which is being painted by Senior Antonio Gambera. Gambera is a foreign exchange student from Italy and says that his love for painting was a huge part of his life back home. "I worked as an artist in Italy but wasn't paid enough" recalled Gambera. Although Gambera worked as an artist in Italy, he has never actually taken an art class. "The reason I took art at South was because I love art, and have never taken a class before," Gambera said. Gamberaloves expressing himself through art, and his mural expresses his passion for a particular type of art. "My mural at Bo Mallies is a mural showcasing a style of street art. At school, I'm not sure that this style of art would be as well appreciated," joked Gambera. Street art is art similar to that of graffiti or some type of art made with a spray-painted look. Antonio chose to take the image of a Koi Fish, and give it a certain street art twist. The final message Gambera would like to give to South High students is that if you are thinking about joining art, just try. "Everyone can improve if needed, but it is important to try if you are curious."
     So next time you see a painted wall at school, remember where it has come from. Student murals come from students who have a passion for art, and who want to share their talents so we are all able to appreciate them. These murals will tell stories around the school, and around our city for years. If creating something special such as this interests you, consider joining art. You too can create something special that will leave a lasting imprint on our school.