Snow Place Like Home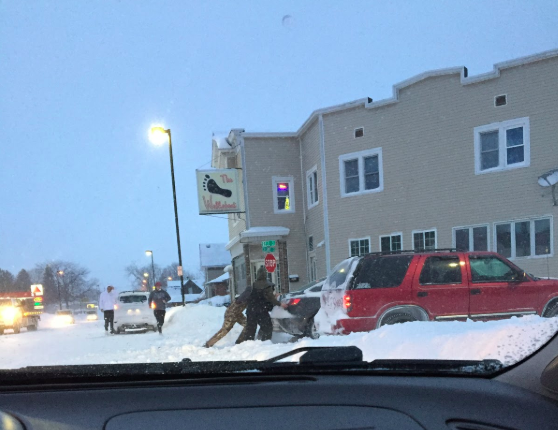 Last week much of the state of Wisconsin received record-breaking temperatures and piles of snow from the effects of Winter Storm Jayden. For us here in Sheboygan, we received in total around 15 inches of snow and temperatures dropped as low as -50 with windchill. Since these temperatures dropped so low, they became life-threatening causing the closing of the Sheboygan Area School District on Monday, Wednesday, and Thursday with the storm ending at around 5:30 on Thursday, January 31st. This left students delighted with only a two day school week due to these dangerous conditions. Although these conditions left many students feeling almost home bounded, others found creative ways to still have fun despite the cold weather.
Senior's Nicolas Prahl and Jacob Royston decided to brave the weather and go sledding with a group of friends at Vollrath Monday night. Vollrath serves as one of many popular places to go sledding as well as Kiwanis park during the winter. After sledding and when they were on their way home, both saw that a car had been stuck in the snow with two people desperately trying to shovel the snow away. Senior Nicolas Prahl explains, " I love helping people in any way I can, whether that be big or small. Once I saw the car, I thought well it's freezing, snowing, and getting dark so why not help them? Jacob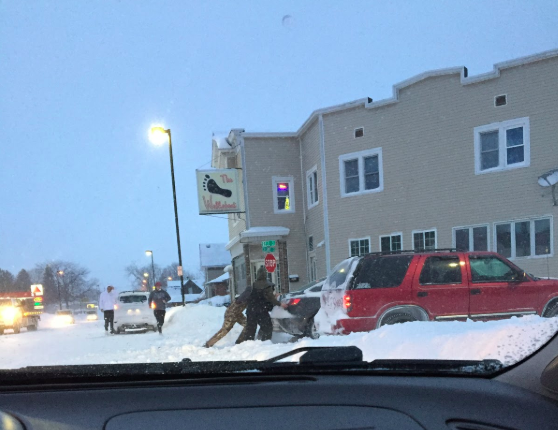 and I gave the car a good push at first but needed a bit more help. Then next thing you know it two former North High graduates pulled up and asked if we had needed some extra help. It was a great moment and a once in a lifetime situation where the sides of both North and South worked together with other than a sport". During the winter, many South High students can be seen out and about helping others who may have become stuck or drove off the road. Senior Jacob Royston states, " Whether it be a group effort of just by yourself everyone needs a helping hand at some point during the winter, so when I saw that a car was in need of help Monday night I was glad to turn around and help out along with Nic".  
While others were out and about despite the cold, some decided to take this opportunity to relax and stay safe inside. Junior Corwin Blake says, " Since it was too cold to be outside I watched a lot of movies and played multiple video games over break".
This break served as a relaxing couple days off for both students and faculty at South High.