We Ain't Got No Type
South's very own Fall Blood Drive is quickly approaching! What exactly is the Blood Drive? How can I sign up? What should I expect and why should I donate blood? We've got all the answers to your questions.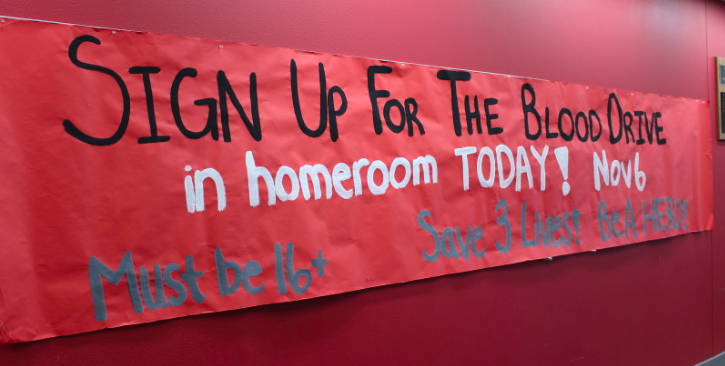 The Blood Drive is hosted by Student Council and is through the Blood Center of Wisconsin. The Blood Center of Wisconsin's mission is to, "Enhance lives through the discovery, diagnosis, and treatment." Their main goal is to, "Expand the frontiers of patient health through the integration of science, medicine, and service." The Blood Center of Wisconsin specifically helps to facilitate Blood Drives across Wisconsin by visiting many different schools and facilities.
The Blood Drive here at South is taking place on November 6th on the east side of the Fieldhouse from 8:00am-1:00 pm. You must be 16 years or older to donate and all you need to do is fill out a form! These forms can be found on the Student Council board outside of Mr. Wagner's room.
What should I know before donating? Many people wonder, does it hurt? The answer is, not at all! You may feel a small prick in the very beginning but it only lasts for a short few seconds and then you're good to go! Blood collection usually takes about an hour including registration, but the blood collection itself only takes about 10 minutes. Donating blood is completely safe and there is no reason to worry! Many may ask, why should I donate blood? In whole, there is no substitute for blood and is needed every day in hospitals across the country. Blood is mainly used for medical emergencies such as trauma victims but is also used to help cancer patients, surgery patients, and even premature babies. Another positive is that there has even been research done showing that by donating blood you can preserve your cardiovascular health and even lower and reduce your risk of getting cancer. Donating blood is a great way to help out your community and is something you can be proud of!
Junior Ariana Methfessel of South High thinks that,
"Others should also consider donating blood since it's a great way to help others and it's a completely safe process." Methfessel stated, "I was very nervous the first time I donated but seeing that everything was very professional, clean, and safe made me feel a lot better". She explained how when you first get there you get a small bag of pretzels to snack on and some water to drink before donating. That after donating there is an assortment of food ranging from pizza and subs to cookies, fruit, and drinks. There is also someone to walk you back to class after you are finished.
The Blood Drive is a great way to give back to your community, and save three lives! Remember, if you are eligible to donate all you need is a filled out form and we will see you there!