Pumpkin Spice and Everything Nice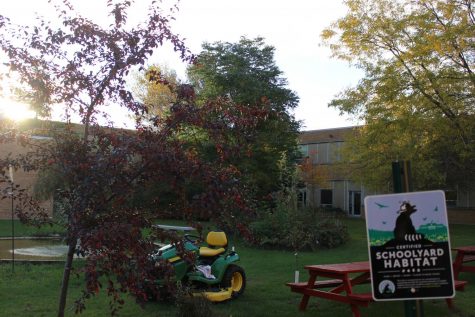 While summer vacation ended what seems like forever ago, fall is just beginning at South High. For many, this change in seasons means going to new places and trying new things, but for others, it means sticking to the classics. At South, students have a wide variety of favorites during the fall season. Whether it be cozy sweaters, sweet fall treats, or scary Halloween movies, there is something for everyone to love about this time of the year.
When asked about their favorite place to get a fall drink, the majority of South students decided that the superior shop is Starbucks. Other favorite locations were Dunkin', coffee shops such as Paradigm or Z-Spot, and even their own house. A common drink for students to purchase at these places vary. Many said that they like to try new fall drinks such as Apple Cider and Pumpkin Spice Lattes. Junior Austin Reynoso, on the other hand, says that he likes to stick to "Regular ol' black coffee like every season". Many students also enjoy sipping on hot drinks such as tea and hot chocolate, to cope with the brisk fall weather.
There are endless opportunities for fun during this season. Many students enjoy carving pumpkins and going to pumpkin farms, apple orchards, and haunted houses. A change in season clearly doesn't mean a change in work ethic though, as many Redwings still continue their summer jobs well into the fall season. Most feel that there are more community events for students in the summer than in the fall.
Looking for suggestions on what movies to watch this season, or where to shop? South High students have all the recommendations. Common activities for students  to take part in during fall include going shopping and watching scary movies. Some preferred places to get a new wardrobe this fall include American Eagle, Tj-Maxx, Target, Kohl's, Hollister, and PacSun. After picking up a comfortable new sweater, students enjoy heading home and cozying up to some fall favorite movies. Redwings' list of beloved fall movies include some scary movies like Michael Myers' "Halloween" series and the new "IT" movie. Most students decided that it is better to stick to the family-friendly movies and enjoy watching movies such as Disney's "Halloweentown" and the "Great Pumpkin Charlie Brown". Sophomore Elizabeth Santana says that she simply likes to "Watch marathons of my favorite shows" when the leaves begin to fall.
While fall means the end of warm, carefree summer days and the beginning of brisk winds and endless hours of studying, it also presents an opportunity to turn over a new leaf. There are plenty of exciting things to do around town signaling the beginning of the fall season, so why not try something new?