Adventure Ed Takes Camping Trip to Devil's Lake
On a rainy Friday afternoon, the Adventure Education class made final preparations for their camping trip to Devils Lake located in Baraboo, Wisconsin. They went out to experience nature and put what they have learned to use. In this class, they participate in outdoor activities, such as hiking, rock climbing, and more as well as participating in group bonding to learn how to trust one another. This class provides students with people skills and skills that can be applied in the lives ahead of them. Physical Education teacher, Peter Toutenhoofd, started this program and stated,
"I started this class because all the lessons that you learn can be applied to real life. It is a class where students can develop their skills and have fun at the same time." The students that have participated in this class, have all exclaimed that they really enjoyed it. From what they have learned in class to their field trip two hours away from South High School. They did many things leading up to this trip, including learning how to tie knots, how to set up a tent, and also fundraise for this to be possible. Senior Boon Me Yang explains,
"My favorite part was climbing up, the almost impossible wall, at Devils Lake." Throughout the second semester of school, students taking this class practiced rock climbing at South and had the opportunity to do it on their trip. Yang challenged himself by climbing up the impossible wall and had a great time doing it. Yang also has a Youtube channel where he vlogged his adventure and commentated on how he felt. His channel can be found by searching Nulvoid. When Senior Payton Steinhardt was asked what her favorite part of the trip was she said,
"My favorite part was probably cooking dinner as a class because it brought us all together in one spot which was really difficult with all the craziness that weekend brought." The weekend of the trip was filled with excitement and fun but was also very hectic with all that was going on. Students like Steinhardt found it the most fun just being around her peers. They usually traveled in groups of people while on their adventure, but at one point everyone was able to come together, sit back, and relax to talk and have a meal with one another. Senior Kyle Alvarez exclaimed,
"If I would recommend any class to the underclassmen it would have to be Adventure Ed!" Through all of the classes that Alvarez took through his high school career, he would also add that his favorite class of all time would be Adventure Education. This was the first year the class kicked off and many students found it to be an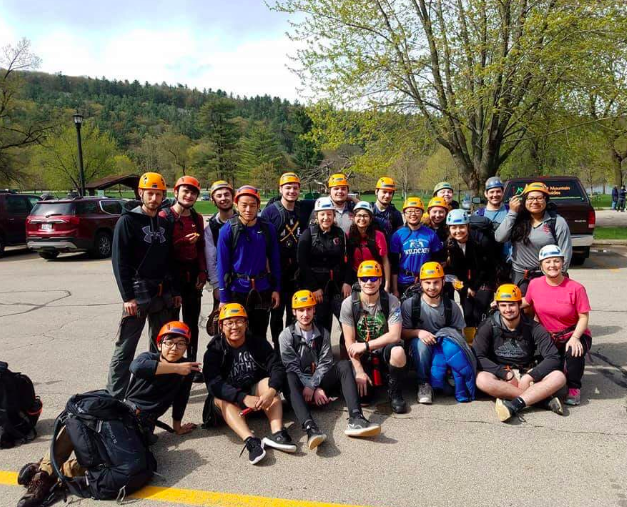 entertaining and knowledgeable class to take.
Overall the reviews on this class have been phenomenal, with everyone who was surveyed stating that they enjoyed taking the Adventure Education program. So if you would like to go out, experience nature, and develop your people skills, Adventure Education might just be the class for you.