Forensics Team Qualifies for Nationals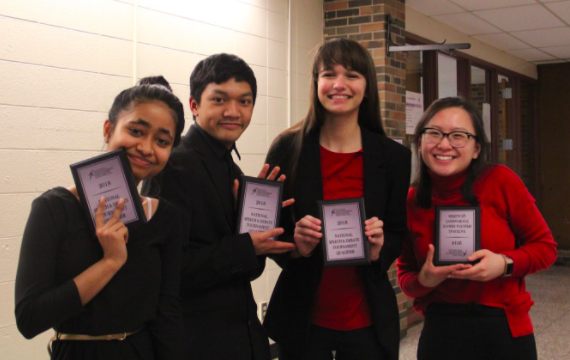 While spring sports wait for the snow to melt, the winter sports season comes to an end with the South forensics team attending the qualification meet for the National Speech and Debate Association (NSDA) national tournament to be held this June in Fort Lauderdale, Florida. The team sent seven students over to West Bend East High last week Saturday for the competition, with four students qualifying for nationals. Sophomore, Rakshya Bhatta in Student Congress, Sophomore Isabel Gosse and Junior, Juliet Chang in Duo Interpretation, and Junior, Kobe Bopha in Program Oral Interpretation (also referred to as POI). In order for students to qualify for the national tournament, they must place in the top two in their respective event.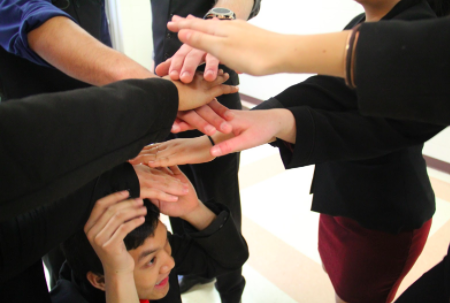 When asked about how he felt that day, junior, Kobe Bopha states, "Maybe it was just me being super tired that day, but I didn't really feel overwhelmed at all by the environment. When I heard my name during the award ceremony I was pretty surprised."
Bopha's POI addresses American gun culture, the piece focuses on mass shootings and why they happen. This is Bopha's first year on the forensics team.
Currently, Rakshya Bhatta is the only student on the forensics team who has qualified both this and last year. Both years she has qualified in student congress which she describes as "…an event held the Friday before the actual meet. It's run in the same way the actual congress does, but our bills do not go into effect. When I qualified this year I felt accomplished and happy. Even though writing 10-20 speeches is a nightmare, the debate gives you an experience that is totally worth spending all of your time and effort into writing them."
Bhatta was also a semifinalist for student congress at the WFCA state tournament this year.
Other students, such as sophomores Ian Zempel and Jacksen Wolff will be first alternates if a student is unable to attend nationals. Zempel is the alternate for Humorous Interpretation, and Duo Interpretation, along with his duo partner Wolff.
This May, the forensics team will send seven other students to represent the Green Bay Diocese for the National Catholic Forensics League (NCFL) tournament. These students include Shouacua Xiong (12), Juliet Chang (11), Ian Zempel (10), Jacksen Wolff (10), Rakshya Bhatta (10), Isabel Gosse (10), and Camila Trimberger (10).
Congratulations to all qualifying students for both the NSDA and NCFL tournaments!