Unsung Heros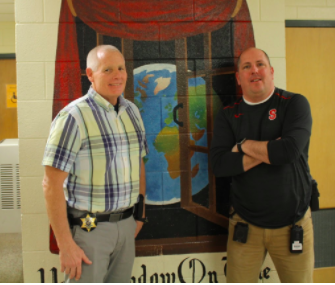 Often times when people think of a high school, they think about the students, staff, and even the school mascot. People rarely think of the school liaison officers unless they know them on a personal basis or come into trouble with the law. South High School has two liaison officers, Mr. Timothy Eirich, and Mr. Matt Friedl. These two are highly recognized by all students and staff within South for protecting the school, and helping build positive relationships with law enforcement and the community. Before serving at South High School, Mr. Friedl was a Corrections Officer at the Sheboygan County Jail and a Sheboygan Police Officer. He has been working at South High for two years, and when asked what he liked about South High, Friedl stated,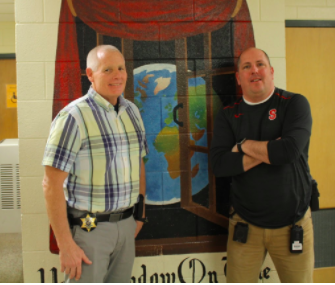 "I like that most of my interactions with people now are more positive versus where on the road they call you when things are bad.  It's been a nice change to have people come and ask you how you are doing, or just hello." Every morning Friedl welcomes the students when they come through the main office. He is also seen walking through the halls asking students how their day is going. One thing that many people don't know about Friedl is that he plays video games on Xbox. Senior Ben Boldt was asked why he likes the officer his reply was,
"I really like to talk to Officer Friedl because he is really personable and easy to talk to. Sometimes I forget that he is an officer at South because he likes a lot of the same things that the students like. I think that is something very helpful because it allows the students to be able to go to him if they need anything and not be afraid." Officer Friedl works alongside Mr. Tim Eirich who has helped guide him in his first two years at South. Eirich graduated from Sheboygan South High School and has been at South for five years. He was the Chief of Police in Sheboygan for a little over a year and was a Sheboygan Police Department Supervisor for 24 years. When asked what he liked more about working at South versus being a supervisor he stated,
"There is less stress. Managing people is extremely stressful because it is hard to make everyone happy. Working here is unique because you can build a lot of special relationships with a lot of students. I enjoy talking to them and trying to show what police officers can be and making the positive connections with the young adults is so important. It's kind of neat that my  job assignment here is that it is my role to keep the South High community safe." One thing that Officer Eirich is know for within the school is that he has an open door policy. When he is in his office, there is always an invitation for anyone walking through the halls to come in, grab a piece of candy, and have a safe space to talk. This policy doesn't just go for students but for staff as well. One person who sees the relations Eirich has with the students daily is Study Hall Advisor Mrs. Leah Ridenour who states,
"The way the students respect Officer Eirich and they way he respects them is something very special. I see how much they enjoy when he comes and talk to them in study hall. I feel like a lot of people wouldn't want a police officer coming up to them but not these students, they love it." Establishing a sense of respect between both officers and students is something that is very important for South High. Although the officers aren't the first staff member you think of at South High, they have one of the most important jobs. They protect over the 1200 students and staff on a daily basis. A lot of what they do is behind the scenes, but plays an important part of the culture, safety, and environment at South High School.