March Madness
Now this time of the year can be very chaotic. With Spring finally hitting the ground (well maybe), Easter only being around the corner, and the biggest NCAA basketball tournament there is MARCH MADNESS!
March Madness is the time of year where you can lose or gain money, be the happiest or saddest, or even, in this case, all of the above. March Madness goes all the way back to 1939, More than 75 years ago, and only having 8 teams in March Madness for the first 12 years. Sounds silly right? Now taking a look at what we have today, having 68 teams play in March Madness and all of us rooting for someone different. March Madness kicking off this year on March 11th, with it being selection Sunday but doesn't officially start until March 13th, with that being the First Four. For those who may not know what March Madness is, it is a huge college basketball tournament that only a number of selective of teams are in (sadly not Wisconsin this year). It happens once every year and people really enjoy it. Usually, the timing for March Madness is anywhere from anywhere in the middle of March (this year: March 13th) and ending sometime in early April (April 3rd).
Picking upsets in the NCAA tournament bracket is always a dicey task. They happen every year and they're the reason peoples brackets go downhill. They happen frequently enough that you might want to pick enough of them to steal a few important points in the first round. With this mindset, we may look and last year's March Madness and as well as their overall basketball season for each team. Anything is possible and can all be the luck of the draw. In March Madness you don't need to know that much about basketball itself or even any college teams in this case. It's just like picking numbers for the lottery, you may be lucky someday but absolutely unlucky the next day. It all matters if you have the lucky pick in the end.
March Madness is a huge hit in schools, high schools specifically. Kids are always watching the games and love doing so.
So what goes through your mind when picking teams for your bracket? Are you picking your favorite teams? Or maybe you're picking teams that are subject to win. Are you going off seeds/ rankings? Are you in a pool with your friends or maybe even co-workers? Do you have a huge party with your buddies or with your family watching the games? March Madness is a huge event and can lead to a numerous amount of opportunities to become better than the bracket under yours.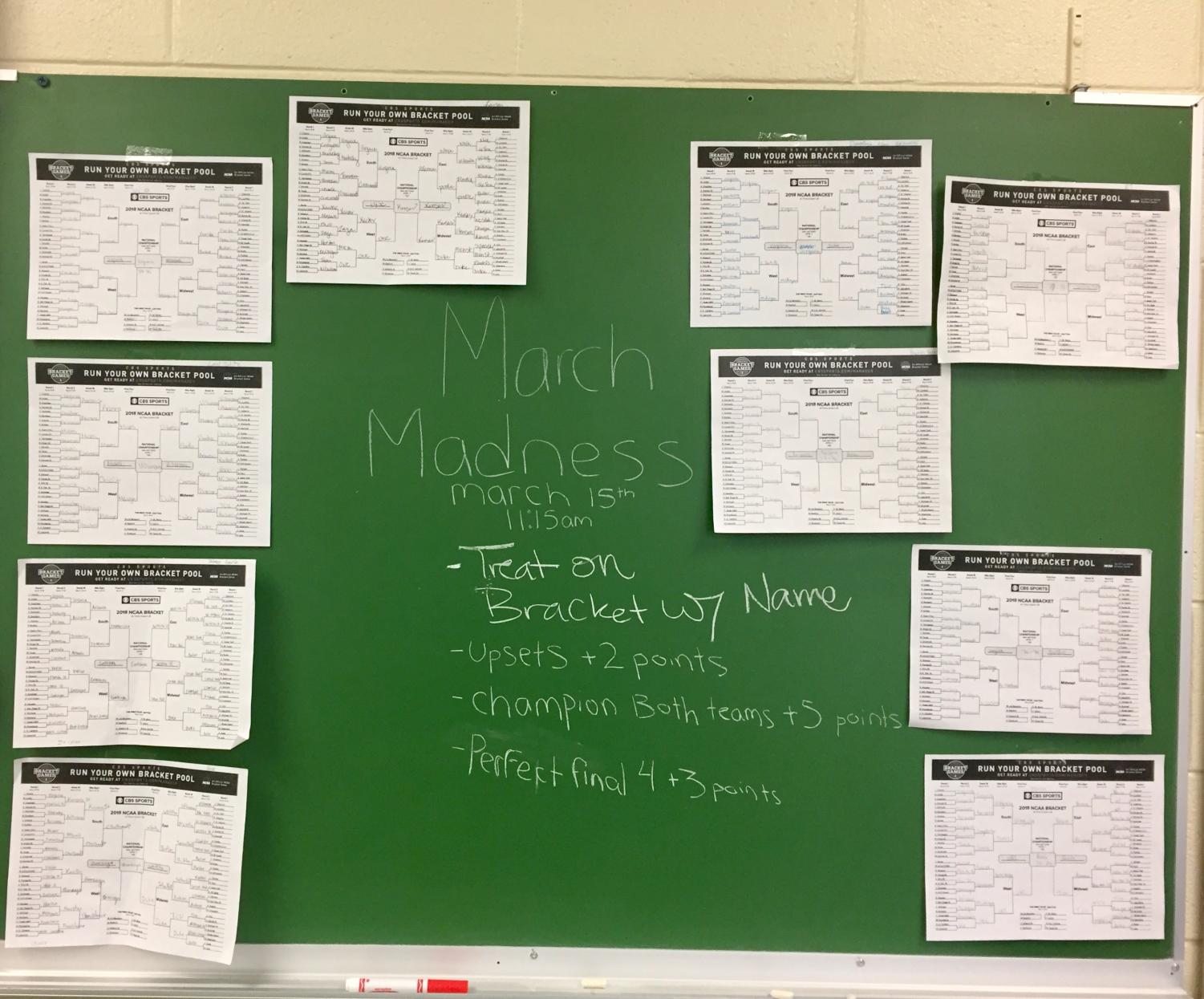 What's your favorite activity to do during March Madness?
Junior Karl Mattern States; "Picking the bracket is the best part of March Madness hands down. Checking the ESPN brackets to see what famous people picked is a surefire way to know summer is coming. Thinking of a funny name to give the bracket sometimes can take days. Watching games with the gang, there's nothing like it. When all of the games are over, I usually don't win anything, but the camaraderie shared by friends watching some hoops is unmatched".
US History Teacher Randall McAdoo States; "March Madness is what I look forward to in March the most, other than spring break. Its neat to see all the students and teachers pick different teams and see how people analyze and pick obscure teams all for the bragging rights of having the best brackets. Very fun times.
After now knowing the 68 teams, what kind of bracket picker are you? Maybe you got some tricks up your sleeve and know what you are talking about (Ok I give you props).  Or maybe you got the lucky picks and do well every year (It's going to be a little complicated this year). Maybe you're just going to wing it and see how it goes (Now we're talking). Are you a mascot picker? Mascot picking isn't all that bad depending on if you think that mascot is cool or not. There's also a jersey picker in there as well (I mean come on, who doesn't like a good color popping jersey). Either way, March Madness can all be luck of the draw and can go as good as flipping a coin. Who knows maybe that's a way to choose your teams as well.
Can you be the only one that may get a perfect bracket? Yes, I know you may have a better chance of getting struck by lightning but it has been close. The record of the road to a perfect bracket was a perfect 39 games before being busted in the final matchup in 2017. Anything is possible but it has never been done, but can you change that? Well you know, If any of you can get a perfect bracket then consider yourself one million dollars richer than you used to be. With Warren Buffet offering one million dollars A YEAR FOR LIFE! That's right you heard that correct. One million dollars a year for life to whoever can get a 100% perfect bracket. He's pretty confident that no one can get a perfect bracket, I mean so far he's correct.
I wish many of you luck to perfect brackets and good scores. Don't get to upset over wrong picks, or bad games. If you have a bad game, don't sweat it, it's only one game and there are a ton more games waiting for you to win. This year teams are so unpredictable that anything could happen.
Good Luck!