South's Dollhouse Dancers Return from Worlds
Starting in May, auditions begin, and the Dollhouse Dance Factory prepares for another season full of competition. South has seven Dollhouse dancers, four of them being elite dancers, students include Freshmen Nicole Fritsch, Madison Griessmeyer and Chloe Renzelmann, Sophomores Kennedy Matuschka, Chelsea McNellis, and Claire Michener, and Junior Lauren Firgens.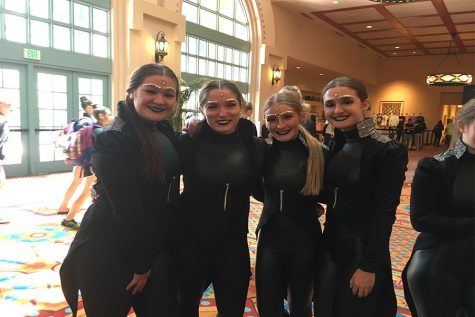 The Onyx team consists of Fritsch, Matuschka, Griessmeyer, McNellis, and Renzelmann. Michener and Firgens make up the South High portion of the Crystal Dolls. Fritsch, Firgens, Michener, and Matuschka are all on the World Champion team, Senior Large Hip Hop, with the theme of witches. Other than Senior Large for an elite team, girls dance in other routines as well. Michener is on Senior Small and Fritsch is on Junior large, the summit champions, themed VMA's.
Between the cold and dreary months of the winter dance season, the girls are hard at work, training for their competitions. Going for bids is a large part of being on the elite teams. Bids are awards given to teams to represent the competition at the World Dance Competition in
Orlando, Florida. All of the senior teams at Dollhouse got partial paid bids from their first competition. Partial paid bids give money to the team to represent them and send them to Worlds. That is the highest bid a team can get for the worlds dance competition.
"… my most memorable moment was worlds. Although there are many this definitely topped them all… it was like a dream come true," stated Michener of the competition at the end of April. Dollhouse has brought girls to the world competition for the past three years. In the first year they had placed tenth in a single category. The next year, girls received 13th in the Large category. 2017 was the first year Dollhouse has made it to finals, the second round of the division. To make it to finals, the team has to be in the top portion of the group. Matuschka and Fritsch joined Michener in saying worlds 2017 was their most memorable moment so far of their Dollhouse journey.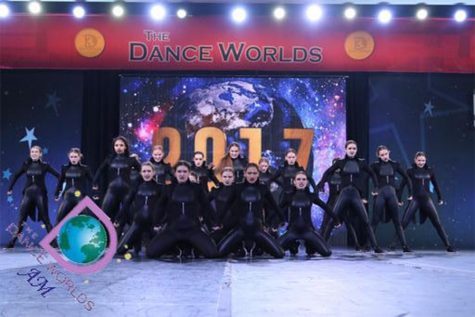 Some more highlights of the girls Dollhouse experiences were, "Night Terrors,"
a routine that Renzelmann competed in 2016 on the Iron crew. Griessmeyer referred to her first year of dance and said her favorite routine was
"Evolution, the caveman routine", the Platinum crew's competition team, and when she was asked why she continues to dance,
"The amazing opportunities."
Fritsch continued the response and said,
"My coaches continuously inspire me. They show me how to develop my style of dance and become a better dancer. Kayla and Betsy have made dance their life and it inspires me to do better with my performance and practice harder each and every time."
Some girls hope to continue on with their dancing later in life, such as their college team or to be on the Buck's dance team. Each girl on the team truly has a passion for dance and dollhouse has given them an outlet to express themselves and have a creative way to dance, anything from hip hop to ballet dance.