99 Problems, and Your Exam Begins Now!
When high school students hear the word "finals", some may break out in a nervous sweat and others may sit back and enjoy the two or three day week they get out of it. Whether you panic or relax, finals is a different experience for each grade along with the staff and Flex Mod has brought changes to the process.
Junior Mackenzie Barber has been through 2 previous years of finals. During the first semester tests this year she hopes to improve upon her scores by,
"Finding more study time." Flex Mod has givens students time to study during the day due to mods of free time within their schedule, a positive change from period scheduling.
A big change from middle school to high school for Freshman is finals. There is a lot of pressure put on students this is a freshman's first chance to feel it. Freshman Isabel Gosse was stressed about,
"EVERYTHING. I'm afraid that I won't know anything on the test, that I will stress myself out too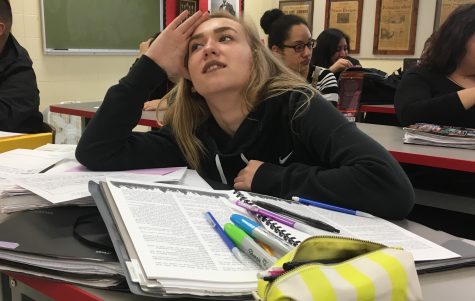 much, and I don't want to study the wrong things!" Although most teachers don't put an enormous amount of weight on the test, normally around 15-30%, so it doesn't drop a grade tremendously. Finals are an accumulation of everything students have learned from September 2nd up until the test day. Everything is fair game, and it's difficult for students to retain the information they are given for all of their classes.
In past years, prior to Flex Mod, the first day of finals consisted of three or four classes a day, allowing students to have enough time to finish the tests. Now with the new scheduling, each day remains the same as a normal day of Flex Mod, leaving students with shorter periods to take the test in.
As some classes are putting pencil to paper, music classes operate a little differently.
"Their performance assessment revolves around their Winter Concert.  So during finals, rehearsals just take place," said Mr. Wade Heinen, the band director at South High. Band students may have a sigh of relief when they get a break in their day to play a little music.
For Senior Hans Peter, finals aren't always a walk in the park despite the fact that Flex Mod has changed his experience for the better,
"I have fewer (finals)," said Peter, "but it's hard to retain so much information over such a long period of time."
"Finals is a great way to assess the skills and information learned over the course of a semester because teachers can use the information to see how students apply skills combined with learned information to communicate understanding," said Mr. Erik Wagner. Teachers see finals as a great way to know what the students are retaining each semester, although students may find the process stressful, it helps teachers teach you more thoroughly.
All in all, finals this year should be no different than those in years past. Whether you plan on studying or winging it, your knowledge is truly tested in finals. Study hard, Redwings!