Renewable Redwings Hold Coin Drive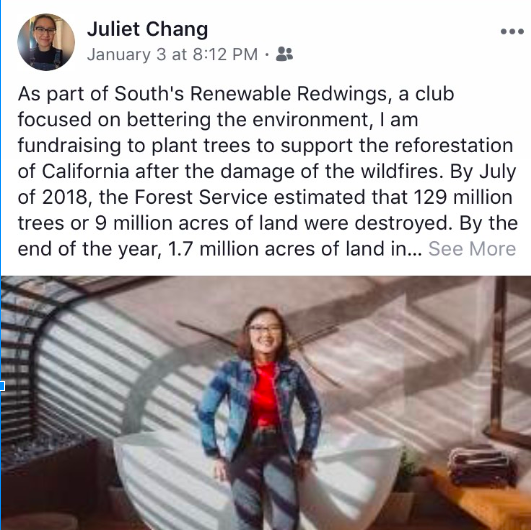 Rob, Hamburg
January 22, 2019
Hang on for a minute...we're trying to find some more stories you might like.
Renewable Redwings is back at it again with a bunch of projects to help the environment, and help out around the school with various projects and fundraisers. Every year, students help assemble the Renewable Redwings team to help save the earth and raise some money for environmental awareness. This year, Renewable Redwings is taking things to the next level. Over the course of this school year, the team plans to reach out to several different local businesses for advertisement and assistance in our community's environment, such as Culver's, Jimmy John's and Acuity. While working with the Botany program, and several other organizations, the team would like to help put trees back in the earth and keep trash out of the environment. The Renewable Redwings Advisor, Sarah Klingbile, a science teacher at South, helps the students with ideas and for helping the students come up with how to approach businesses for help. She arranges when students will be able to clean up public areas together such as the beach for any garbage.
One thing that Renewable Redwings is currently set up is the Coin Drive, which runs from January 22nd, until February 8th. Where each South High advisory class receives a baggy to fill with spare change. The more change in each bag that the advisory gets, the more points they will get to receive a chance at incentives such as an ice cream party for an advisory. However, if someone puts a dollar bill in a specific advisory bag/envelope, then they will be deducted points. This is used as a competitive scheme so that people may target their friend's advisory classes or hinder a certain advisory from winning the prizes. This also raises even more money for the club so we may use it on replanting trees and advertising for other South High students to join. The idea of having aluminum cans as another way to get points has also been thrown around by the group, as it would not only help those who are not as economically stable, and it would also ensure that cans are being recycled the proper way.
Another thing that the Renewable Redwings have planned, is a fundraiser for replanting trees that were burned down in wildfires and in areas that have been affected by deforestation. Senior Juliet Chang, one of the leaders of the club, has put in a lot of effort to get the word out for her fundraiser for the trees.
Overall, the Renewable Redwings are working on many projects in order for the earth to stay cleaner, and so that the Sheboygan Community may collectively rise up towards fighting deforestation, as well as picking up trash when they see some laying around. If you wish to donate yourself to these fundraisers, the link for the tree planting is here. https://onetreeplanted.org/ and if you have questions on membership you may always email [email protected] or [email protected] for more information.